40th Anniversary SCCA convention (Convention registration form)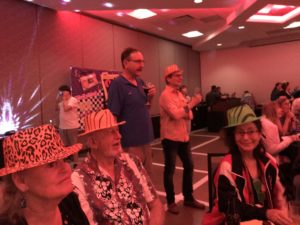 Several members of the Conejo Valley Cloggers traveled down to La Mirada for the SCCA annual convention over the week-end of August 23 through 25, and we had a great time. Those who have attended the event know it as one of the "Cannot miss it!" events of the year. But if you did miss it, rest assured that the convention will be held again next year.
The Convention: Consider that the early bird mega-package registration included: Friday night workshops, workshops all day Saturday, Sunday workshops, an absolutely great Saturday night show, Saturday night dance party, an after-Party Party with open bar and food, a full breakfast buffet on Saturday, a three-course sit-down dinner on Saturday, a full printed syllabus, and a tee shirt! All that for a little more than $100! And there are always other (less expensive) packages, as well.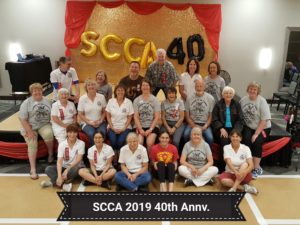 Academy Awards? Yes, the SCCA held a fun Awards Ceremony this year, and we brought home some awards! Evy, Kay, and Julie Morris were awarded the "Passing the Torch" award; and Kay, Meredith and their team received an award for their tireless and always-successful efforts in organizing and running the Raffle. Congrats!
CVC Performance: This year, the Conejo Valley Cloggers participated in the show, dancing a comic routine to Clare Means' Voodoo Doll. It was fun! Take a look!

The Dances: Over the next several weeks, Evy and Kay will be teaching many of the dances that we learned in the workshops. Great stuff! Hope you can join us …
2022 Convention: Special One day event in Anaheim August 6th
Follow us on social media!